Report
---
Recommendations for Freeboard Standards for State-Owned Buildings in the Commonwealth of Virginia
---
"It is prudent for the Commonwealth of Virginia to consider the risks of sea level rise and the threats of extreme weather and natural hazards in establishing siting and freeboard standards for state-owned buildings, which will ultimately reduce the impact of these conditions to public health and safety, the environment, and the economy of the Commonwealth."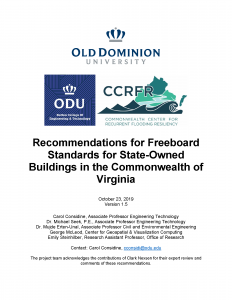 The team, comprised of Dr. Michael Seek, Carol Considine, Emily Steinhilber, and George McLeod developed a report coupling the newest professional guidelines of the American Association of Civil Engineers with local sea level rise information from NOAA and VIMS. The recommendations proposed continuing Virginia's restriction on building in the 100-year floodplain, but extended that restriction to the 500-year floodplain. The idea is that as seas rise and precipitation increases, this will avoid unnecessary risk to state assets. Read the full report here.
Assistant Professor, Department of Engineering Technology,
Old Dominion University
Email: cconsidi@odu.edu
---
Want to read more CCRFR Reports? Visit our Reports page for the full list of CCRFR Reports.
---