CCRFR Report
---
Future Sea Level and Recurrent Flooding Risk for Coastal Virginia
---
"A report developed in response to a request from the Secretary of Natural Resources and Special Assistant to the Governor for Coastal Adaptation and Protection to assist with meeting the Executive Order No. 24 (2018), Increasing Virginia's Resilience to Sea Level Rise and Natural Hazards directive set forth in Section 2 Part A requiring the development of a Coastal Resilience Master Plan."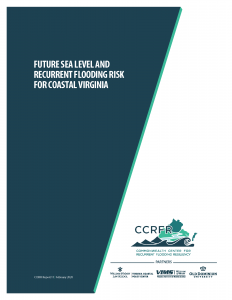 The report presents analysis of the best available existing data on coastal land elevation, sea level rise projections, vertical land motion (subsidence), and building and transportation assets. Sea level rise (SLR) projections are analyzed as Relative SLR (RSLR), combining the effects of vertical water rise (or "eustatic" change) with regional trends in vertical land motion, or subsidence. The study made use of available Commonwealth LiDAR elevation data, buildings, and roads as well as several sources of federal data, including sea level trends, tidal flooding and datums, and peer-reviewed and government reports. Read the full report here.
Visit ArcGIS for a model showing flooding due to sea level rise for the years 2040, 2060, and 2080.
Senior Geospatial Fellow, Commonwealth Center for Recurrent Flooding Resiliency,
Assistant Director, Center for Geospatial Science, Education, and Analytics
Information Technology Services
Old Dominion University
Email: gmcleod@odu.edu
---
Want to read more CCRFR Reports? Visit our Reports page for the full list of CCRFR Reports.
---